New app could help more patients access treatment for psychosis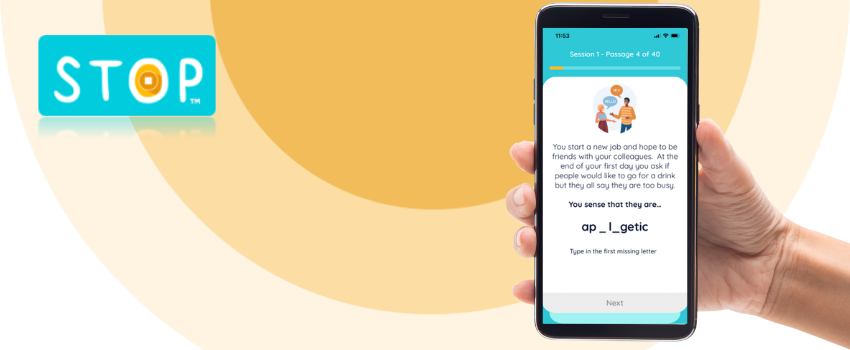 A team of academics  and clinicians, led by King's College London, are developing revolutionary technology to transform the way healthcare professionals can help patients with feelings of paranoia.
In a landmark project, experts from King's College London, University of Bath and The McPin Foundation are working with healthtech startup Avegen Health to develop and trial a new app that will deliver a therapy called STOP (Successful Treatment Of Paranoia), which uses gamified activities and assessments, delivered weekly over twelve weeks, to give patients the tools to overcome paranoid thoughts.
Paranoia is thinking and feeling like you may come to harm, even if there is no evidence, or very little evidence, that this will happen. As many as a third of us will experience paranoid thoughts in our lifetime and access to support from  the NHS can be slow.
The research team behind STOP hope the new technology will be able to ease pressure on NHS services, by making it easier for patients to get effective, timely and accessible remote therapy to help them manage their paranoid thoughts and prevent a decline in their mental health.
STOP therapy was developed from research findings on the thinking patterns that underpin paranoia, and combining this with established techniques that can change biases in how we think. A feasibility study of the therapy with about 60 participants has shown promising results, with improvements in symptoms of paranoia and a reduction in anxious and depressed mood. The partnership with Avegen Health will enable the therapy to be trialled as an app and with more patients.
The app will be tested by over 250 patients with distressing paranoid thoughts from any NHS Trust in the UK in a clinical trial funded by the Medical Research Council (MRC). The clinical trial opened to participants in October 2022 and will run for 24 months, closing to recruitment in August 2024. If it proves effective the app could be in the hands of patients as early as 2025.
Jenny Yiend, Chief Investigator on the STOP study and Professor of Cognitive Psychopathology at Institute of Psychiatry, Psychology & Neuroscience (IoPPN), King's College London, comments:
"We're really excited about the potential of the STOP app to enable us to research this approach with more people and ultimately to widen access to potential new treatments to help people manage paranoia. Paranoia can be one of the most distressing psychological experiences. It can have a significant negative impact on peoples' relationships, careers and mental health. Through STOP, we hope to make interventions for paranoia more accessible and engaging, helping thousands more patients to access care and making it easier for clinicians to provide timely support.
"Working with Avegen to build the STOP app has been enjoyable. Avegen's CEO Dr Nayan Kalnad and his team have supported us to bring a sophisticated, safe and innovative tool to life in a relatively short space of time, enabling us to get a clinical trial underway efficiently with the ultimate goal of getting the tool in the hands of the patients who need it as quickly as we can."
How STOP works
STOP uses engaging videos, activities and assessments, delivered via a smartphone app, to target a psychological process called "biased interpretation of ambiguity". Typically, this process means that people with paranoia will automatically interpret emotionally ambiguous situations in a negative way. But the new technology trains individuals to consider alternative ways of seeing situations, which can drive a reduction in distress-inducing paranoia symptoms. Sessions involve reading text that could be interpreted in a paranoid way (such as the stare of a stranger which could reflect harmful intentions) and encouraging readers to make the alternative interpretation (such as the stare reflecting harmless curiosity) by using word tasks and questions.
As part of the STOP treatment programme, patients will complete one therapy session in the app per week for twelve weeks, with each session taking around forty minutes to one hour to complete.
Dr Nayan Kalnad, former medical doctor and CEO and co-founder at Avegen Health, comments:
"As a former medical doctor, I'm passionate about building technology that can take care beyond clinical settings and support patients to better manage their health in their day-to-day lives. So it has been a privilege to work on STOP: a tool that has immense potential to transform the quality of life of thousands of patients in the UK experiencing paranoia.
"STOP provides a blueprint for digital therapeutics to play an even bigger role in getting critical mental health care to patients, and easing pressure on doctors and the NHS."
About STOP's clinical trial
This study proposes to develop and test a mobile app version of a new therapy for paranoia. In year 1 of this study researchers have developed an earlier version of the therapy into a more accessible and engaging 12- session app for mobile phones, called STOP: Successful Treatment of Paranoia.
In years 2-4, researchers will give patients STOP alongside their usual treatment and compare this with a control condition where patients simply read text in the mobile app instead. The study uses a randomised controlled design and patients are being recruited from any NHS Trust across England, coordinated by two main study 'hubs' in Bath and London. Participants will receive either 6 or 12 sessions of STOP and researchers will measure clinical symptoms immediately and at 3 and 6 months later. These treatment data will be compared with data from similar people who take part in a control condition (reading text in the app) and are assessed at the same time. The data will show whether there are any beneficial effects of STOP and, if so, how long they last. Researchers will also measure in more detail exactly how many sessions produce enough symptom reduction to be clinically useful.
For more details on the clinical trial visit stoptrial.co.uk or https://gtr.ukri.org/projects?ref=MR%2FV027484%2F1#/tabOverview.
About Avegen Health
Co-founded by Dr Nayan Kalnad and Neeraj Apte in 2015, Avegen builds transformative digital health products that empower patients to take control of their health and support clinicians to deliver life-changing care. Avegen's core product, HealthMachine®, is a cloud-hosted, next-generation product development platform that healthcare pioneers choose as their engine to deploy high-quality, evidence-backed, safe digital health products efficiently and effectively.
Avegen works with major pharma, research institutes and healthcare providers around the world and our products touch over a million patients managing long-term conditions in cardiovascular & metabolics, infectious diseases, mental health and maternal health.
Avegen is ISO27001, ISO13485 and Cyberessentials certified; compliant with NHS Data protection toolkit and GDPR.
For more information visit avegenhealth.com. 
About The McPin Foundation
McPin has grown from a small family foundation, established in 2007, to a specialist mental health research charity. The McPin Foundation's mission is to improve mental health through research informed and directed by expertise generated through lived experience. McPin wants the value of lived experience of mental health issues to be upheld and embraced, which is why we put it at the heart of all our research work.
Sources
Take Part in the STOP trial 
If you are interested in taking part in the trial, please visit the South London and Maudsley website where you can find out more about what is involved and how to register your interest.
Find out more about taking part in the STOP trial here
Media coverage
The i news, Paranoia and anxiety symptoms could be cut by logging onto a new NHS smart phone app, 8 April 2023
Tags:
Informatics - Digital Therapies -
By
NIHR Maudsley BRC
at 11 Apr 2023, 08:00 AM
Back to Blog List